Electric currents create magnetic fields in the Sun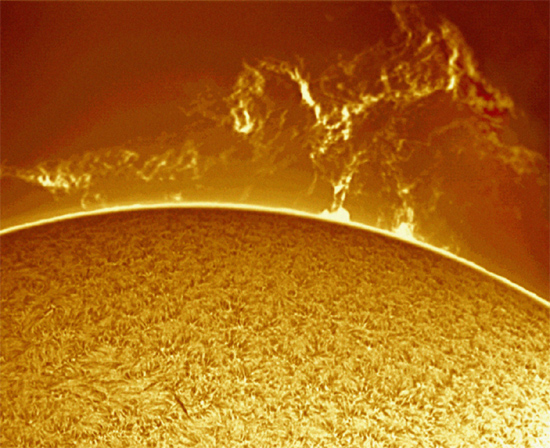 A coronal mass ejection erupts from the Sun. Image credit: Jo Dahlmans
Electric currents create magnetic fields in the Sun.
"Which came first, the chicken or the egg?" Asking this question always gets a chuckle from a group of kids who haven't been asked that before. For adults, it confirms their conviction that unanswerable questions must be laughably ignored. For a farmer who gets into the egg business by purchasing a group of laying hens the answer is easy. "My chickens came first; that's how I got my eggs."
Solar astrophysicists who try to explain what causes coronal mass ejections (CMEs) have a similar conundrum: "Which came first, the change in electric current, or the change in the solar magnetic field?" Until the present day there has been no mention of electric currents in space by solar astronomers. There has been no acknowledgement whatever that electric current is needed to create magnetic fields or that it even exists.
In 1908 Kristian Birkeland suggested that electrical flows from the Sun caused the auroral displays that we see. Astronomers such as Sidney Chapman ridiculed him. When it came to descriptions of solar coronal mass ejections and similar phenomena, all we have heard about for decades was that magnetic fields move around and twist – their "magnetic lines of force" come together, touch, and then fly apart carrying matter with them. This is called "Magnetic Reconnection." Solar astronomers never mention electric currents. We are to believe that magnetic fields do it all by themselves, without help.
Via: thunderbolts.info